Members of Saint Timothy are mounting and selling icons as a fundraiser for the mission. All proceeds go directly to a building fund to support our long term goal of a permanent church facility. An assortment of icons are available for purchase at trapeza (coffee hour) directly following Sunday services and occasional feast days at our parent parish, The Church of the Reigning Mother of God in Charlotte. Icons are not at this time available for purchase online – however, you may contact Timothy and Xenia Bartholomew for more details and purchase arrangements. See details below.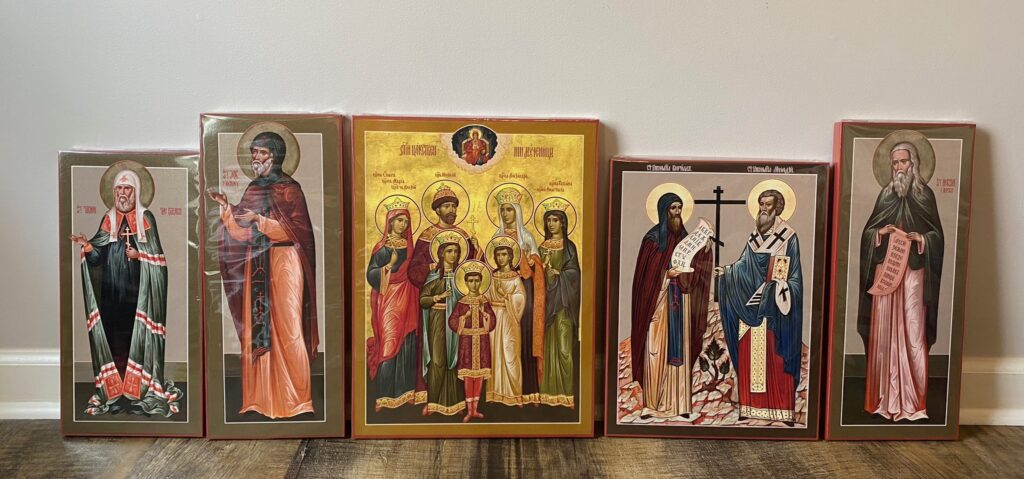 Our icons are mostly canvas prints, mounted directly to 3/4 inch MDF. They are then finished with applying a protective layer over the print, sealing MDF edges, painting sides and back, and installing a bronze keyhole for wall hanging. We do not print our own images.
Prints have been donated by Orthodox Christian Supply upon owner, Silouan Campbell's, relocation to Russia. While we have multiples of certain icons, many canvas prints that were donated are limited to one – however, most images can still be found on Orthodox Christian Supply or Damascene Gallery and ordered there. Our current icons are priced from $5.00 – $60.00 depending on size, offering great quality for an economical price. As mentioned, we hope to use this opportunity to establish a building fund for a permanent facility in the future.
We are willing and able to accommodate remote purchases, provided shipping costs are factored into the sale price. For more details on specific icons, purchasing online, or availability, please contact Timothy and Xenia Bartholomew.
Timothy Bartholomew: treasurer@sttimothyrocor.net
Xenia Bartholomew: info@sainttimothyrocor.net / (980) 241-4808
See below for more icon images.