A mission parish of the Russian Orthodox Church Outside of Russia. Founded September 2020, with the blessing of Metropolitan Hilarion of Eastern America and New York.
With fear of God and with faith, draw nigh.
Discover the Russian Orthodox Church in Hickory, NC.
Saint Timothy's is a mission church of the Russian Orthodox Church Outside of Russia, within the Eastern American Diocese.  Our church was founded in September 2020 with the blessing of our ruling hierarch, His Eminence Metropolitan Hilarion of Eastern America and New York.  St. Timothy Mission has a small but growing community of faithful seeking to share the traditions of ancient Christianity and the Truth of the Holy Gospel with Hickory and it's surrounding communities.
St. Timothy Russian Orthodox Mission is currently holding services in Sebastian Chapel, located on the campus of St. Aloysius Catholic Church of Hickory.   Our serving priest, Father Alexander Logunov, provides regular Divine Liturgy and Matins, while reader's services are held in between.  View our full church calendar for all scheduled services and events, or get details on visiting our parish here.
St. Timothy Troparion
Tone 4 - Having learned goodness and maintaining continence in all things, you were arrayed with a good conscience as befits a priest. From the chosen Vessel you drew ineffable mysteries; you kept the faith, and finished a course equal to His. Bishop martyr Timothy, entreat Christ God that our souls may be saved.
Come and See
We invite you to come witness the oldest and most sacred form of Christian worship.
Our Next Service
January 30, 2022

Typika

January 30, 2022 2:45 pm - 4:45 pm
921 2nd St NE, Hickory, NC 28601, USA
See more details
Parish News
Read more
Father Jonah Campbell to Visit Saint Timothy Mission The visiting priest will provide services for October 9th and 10th Saint Timothy Mission looks forward to a visit this week from Father Jonah Campbell, who will serve Vigil and Divine Liturgy on October 9th and 10th.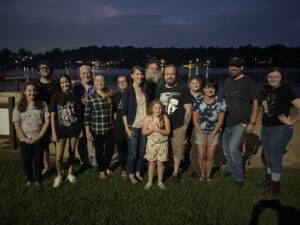 Read more
On Thursday, September 16th, 2021, many of the faithful of Saint Timothy Mission (a new mission church of the Russian Orthodox Church Outside of Russia) gathered to celebrate their first anniversary as a functioning ROCOR mission. Saint Timothy is the first mission of the Russian
Read more
Saint Timothy Mission Approaches First Anniversary Looking Over the Past Year Almost one year ago, in September 2020, a small but determined group of faithful Orthodox Christians set out on the endeavor of beginning St. Timothy the Apostle Russian Orthodox Mission. After receiving the official